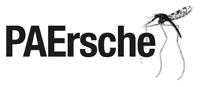 PAErsche is the working title of the Aktionslabor, which was founded in 2010 and is supported by around 30 artists from the Rhineland / Ruhr regions and neighbouring countries such as Belgium, the Netherlands and Austria.
PAErsche is the embodiment of realized desire, establishing a network of different performance artists from various cultural platforms and media organisations who live and breathe performance art and assimilate this with heart and soul.
PAErsche won´t be a fixed group or an ensemble. The framework offered by an open laboratory allows PAErsche to be a bridge between generations: both young and old artists operate together in the space and time provided by the laboratory.
PAErsche members:
Boris Nieslony, Carola Willbrand, Christiane Obermayr, Evamaria Schaller, Karin Meiner, Elke Mark, Marita Bullmann, Rolf Hinterecker, Thomas Reul, Anja Plonka, Anja Ibsch, Beatrice Didier, Constantin Schädle, Alice de Visscher, Mark Met, Michael Dick, Anne-Louise Hoffmann, Irmgard Himst-edt, Frank Homeyer, Susanne Helmes, Petra Deus, Lala Nomada, Waltraud Caspari-Philipps, Ute-Marie Paul. 
Website: paersche.org